Doctors & Staff
Meet the experienced and friendly doctor and staff who make The Oculist by Vision Source a proud provider of vision care products and services in Oklahoma City.
---
Elizabeth McCrackin, O.D.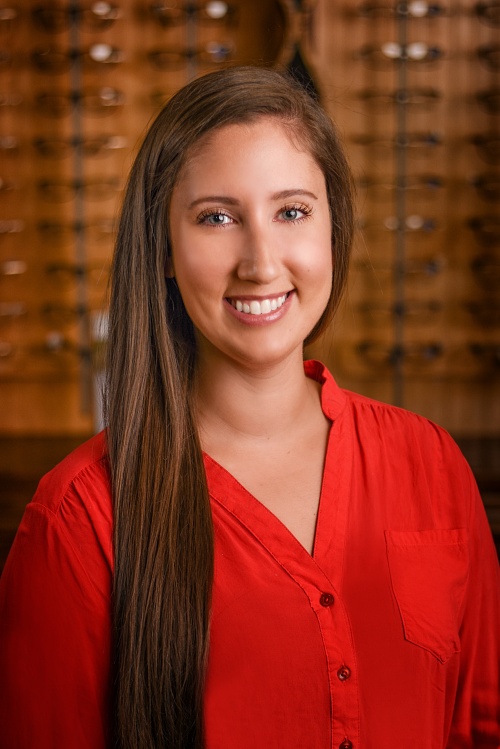 Dr. Elizabeth McCrackin was born and raised in Tulsa, OK and graduated from Union High School before attending the University of Oklahoma. She earned her Bachelor of Science in Zoology in 2014 followed by her Doctor of Optometry degree in 2020 from Northeastern State University Oklahoma College of Optometry. While at NSU, she earned a place in the Beta Sigma Kappa Optometric Honor Society, the NSU Honor Society, as well as an Outstanding 4th Year Project Award for her research in Public Health. Also during her time at NSU, she participated in the Bedlam Clinic volunteer group providing no-charge eye exams to economically disadvantaged diabetic patients in the Tulsa area. She travelled to Roatán, Honduras twice during optometry school with Student Volunteer Optometric Services to Humanity (SVOSH) to offer free eye care to the population of the island. She plans to become active in the international VOSH organization and to continue to bring eye care to underserved populations around the world.
Dr. McCrackin is certified in laser therapy for the anterior segment, meaning that she has experience performing laser procedures such as YAG capsulotomies, Selective Laser Trabeculoplasties, and peripheral iridotomies. These laser procedures can help people see more clearly after cataract surgery and help control the intraocular pressure of patients with certain types of glaucoma.
Dr. McCrackin is excited to return to the Oklahoma City area where she lived from 2010-2016. Outside of the office she enjoys experimenting with increasingly complicated recipes in the kitchen, attending exercise classes, and playing tennis. A varsity tennis player during all 4 years at Union High School, she achieved a personal best third place finish in the Class 6A state tournament. Dr. McCrackin looks forward to becoming active in the Oklahoma City community and offering her patients the best eye care possible.
---
The Oculist Team
Gary Brown – Director of Operations/Vision Source Facilitator for Oklahoma
Jane Davenport – Director of Operations
Julie Brown – Clinic Manager
Mak Meyers – Optometric Technician
Jessica Newton – Optical Manager
Sarah Favalora – Optical Asst. Manager
Avery Hebert – Optician